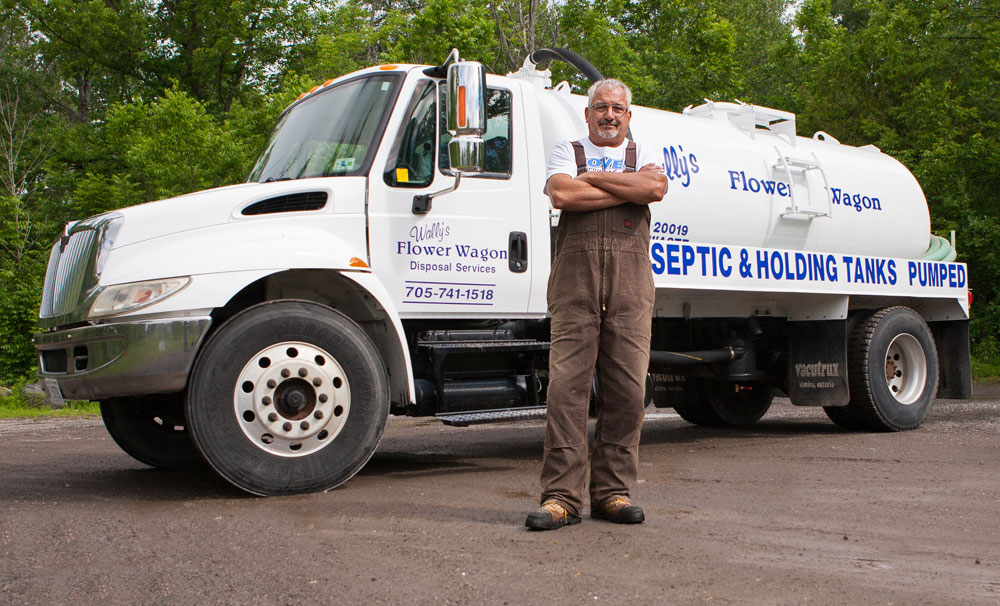 Many small businesses are finding success shifting to online advertising, and you can too.
Wally is the quintessential local small business owner. He's lived and worked in Peterborough all his life and run Flower Wagon Disposal LTD. for the past 15 years. Wally prides himself on his trucks, low environmental impact, and his quality of service. He understands the septic pumping business, his customers, and his community.
There are several septic tank pumping services in Peterborough and the Kawarthas that complete for the septic tank cleaning business. Although the region is home to many cottages and country homes, properly functioning septic systems only need to be serviced every few years. This is a challenge for disposal businesses in the region as they vie for the business.
We enjoy working with Wally and recently asked him to share a few comments on his experience.
Hey Wally, what kind of marketing have you done in the past?
"For years I have relied on traditional print advertising to reach customers. I've spent thousands of dollars with Yellow Pages and the Gold Book, but every year they bring in less and less business."
Why did you start with digital marketing?
"Recently I began to see my competitors showing up in Google searches, and it made me furious. I'm a competitive guy, and I wasn't going to let them get that leg up on me, so I decided it was time for a new website."
What was your experience working with Whatever Media like?
"I met with Ken and the team, and they explained the process. They were very knowledgeable, but I never felt like I was getting a hard sell. Whatever Media got to work on my new website quickly, they did the proper research and homework and got it right. They made it easy and quick. Two years later, it's still working like a charm"
So Wally, has your website been effective?
"From the beginning, they said the goal was to put Wally's Flower Wagon Disposals above the competition in search, which we achieved very quickly. The new website shows up in the top Google results and for me, that means phone calls.
I'm still very pleased with the website. It was an investment upfront, but it was built right, so there has been very little maintenance since. I can focus on my business while it does its job. It's like a salesman working away who never takes time off.
Customers searching for my services are finding my website. That's what's important to me, and I know it has been a success because I ask customers how they found me and they mostly say they searched Google."
What encouraged you to try online ads, and how did you find the process?
"Again, I wanted to stay ahead of my competitors. I spoke with Whatever Media about advertising, and they explained how search advertising could help attract new customers.
For me, it was easy. Whatever Media did everything. The homework on what my customers were searching for, designing and setting up my ads. The whole thing. All I had to do was approve the ads."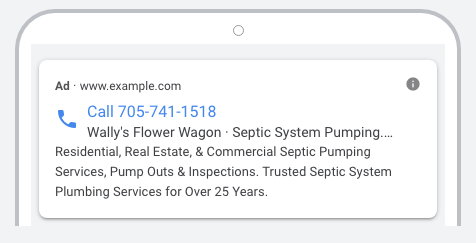 Has the ad campaign worked for you Wally?
"It's been a great thing for me; I owe a lot of my being busy to it. I've had a lot of calls and the report they sent me confirms that lots of people are going to my website and calling.
In fact, April has been a great month for me this year. We've experienced double the business over the same period last year. In fact, in a single week, my guys performed the same number of pump-outs my competitor's experience in an entire month.
There are several contributing factors, but the online campaign has helped. I'm kinda surprised given the COVID thing as some of my usual business are at cottages which have been closed. I've even had customers call me who had previously used my competitors. I'm just happy to get the calls and the chance to help people with their septic systems."
OK Wally, one last question – any advice you would share with business owners?
"You need to understand your customers. I stopped advertising with Yellow Pages because I saw my customers were not relying on it like they once did. And I don't bother with calendars because my customers only need my service every three years or so. I rely a lot on the branding on my trucks and word of mouth, but that isn't enough today. Get a really good website and try some online advertising – Ken and his team were great to work with. It's the best advertising I ever did!"
Thanks, Wally – for the kind words and the opportunity to market an honest, hardworking local business. It's been a pleasure. If you need your septic system pumped, Google Wally's Flower Wagon. If you need some solid, affordable advertising, call us. 1.705.749.6325 x212