Local SEO
Rank Higher, Get More Traffic, Grow Your Business
The number one question we get asked by business owners, is "how can I get to the top of Google?". There are a number of different paths a business can take to boost their online rankings and get in front of qualified customers.
Start Growing Your Business
The first step is to understand how your business is perceived on the web and how it ranks for your customer's most popular search terms.
Valued-Added Content
Timely, relevant, and interesting content for your customers.
Your Google My Business Listing
Optimize your Google My Business and Google Maps listings. They directly impact your website's SEO and they are often the first point of contact with your business in a search result.
Smart SEO.
Our team can help your business improve its SEO and improve your visibility when customers are search locally.
What is SEO?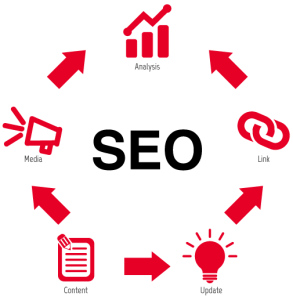 SEO (Search Engine Optimization) is all about being found in online search results. The greater your website ranks in organic search results, the greater the chance your site will be visited by a user.
Google ranks websites based on several different creative and technical elements.
Google is in the business of providing the best search results possible. It's no surprise that Google has become extremely good at doing just that. In order to rank higher on the search engine results page (SERP), you need to first create content that is of value to your users.
It is no longer enough to simply stuff keywords to your website. How is your website content structured? Does it have the right coding best practices? Have you set up for Google My Business listing? Are users engaging with your content? Google measures everything, including how long someone stays on your page and how many pages they visited.
Why is SEO Important?
Organic search traffic can provide revenue, publicity, and exposure like no other form of marketing. Local search is becoming increasingly competitive, businesses that perform SEO now will see returns for years to come if they can maintain quality search rankings.
When people search online they are highly motivated and ready to take action. These are the type of people you want to visit your website. Referred to as inbound marketing, it represents motivated, targeted consumers who are actively looking for products and services. Search engine optimization will put your business directly in front of these people.
Boost your website's organic search rankings and increase your revenue by capturing one of the top 3 positions on Google's search results. On average, position 1 gets clicked on 33% of the time, position 2 – 17.6%, and position 3 – 11.4% of the time.
If search engines have difficulty finding your site, you miss out on a huge business opportunity to drive traffic to your site.
How Do You Compete?
We can supply you with a report that's clear, concise, and easy to understand. Get REAL INSIGHTS about how your business is found in an online search.
Our Competitive Positioning Report consists of:
Your company's Google positions for high-impact search terms
3 of your competitor's Google positions for the same search terms
Full SEO audit of your current website
Critical recommendations to improve your Google search rankings
Find out How Your Website Ranks on Google Compared to Your Competitors